I have attempted to install and run this plugin, RSS Feed Poster, however, I have been unable to get this plugin to work right.
I did try contacting the author, but he seems to have abandoned the program.
The responses that I did get from the author were "you need to pay me to fix this plugin". What??
That doesn't make sense for a free plugin that he created. Other users have chimed in the thread (here in MyBB.com) and basically said the same thing that I said.
Anyways, is there a way that you can fix and install this RSS Feed Poster for my website?
Oh yea, I have NO idea what this means, this plugin "Requires any of the following fopen, curl, fsockopen".
Can you do this for me?
I am willing to pay for this, if the cost is reasonable. :D
UPDATE:
I did a test using the functions_test.php and I got this result.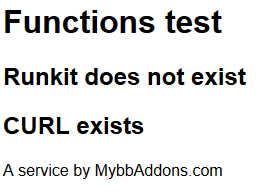 So, that answers the question regarding of my hosting company has one of the 3 required functions - FOpen, CURL, or FSockOpen